Choosing the Right Sandals Resort in Jamaica for a Destination Wedding
Say "I Do" with Sandals Resorts
With a plethora of resorts to choose from, Sandals can offer you everything you need for a memorable destination wedding. Overwhelmed by the options? We don't blame you. We're here to help you narrow it down and find the best Sandals Resort for your beach destination wedding.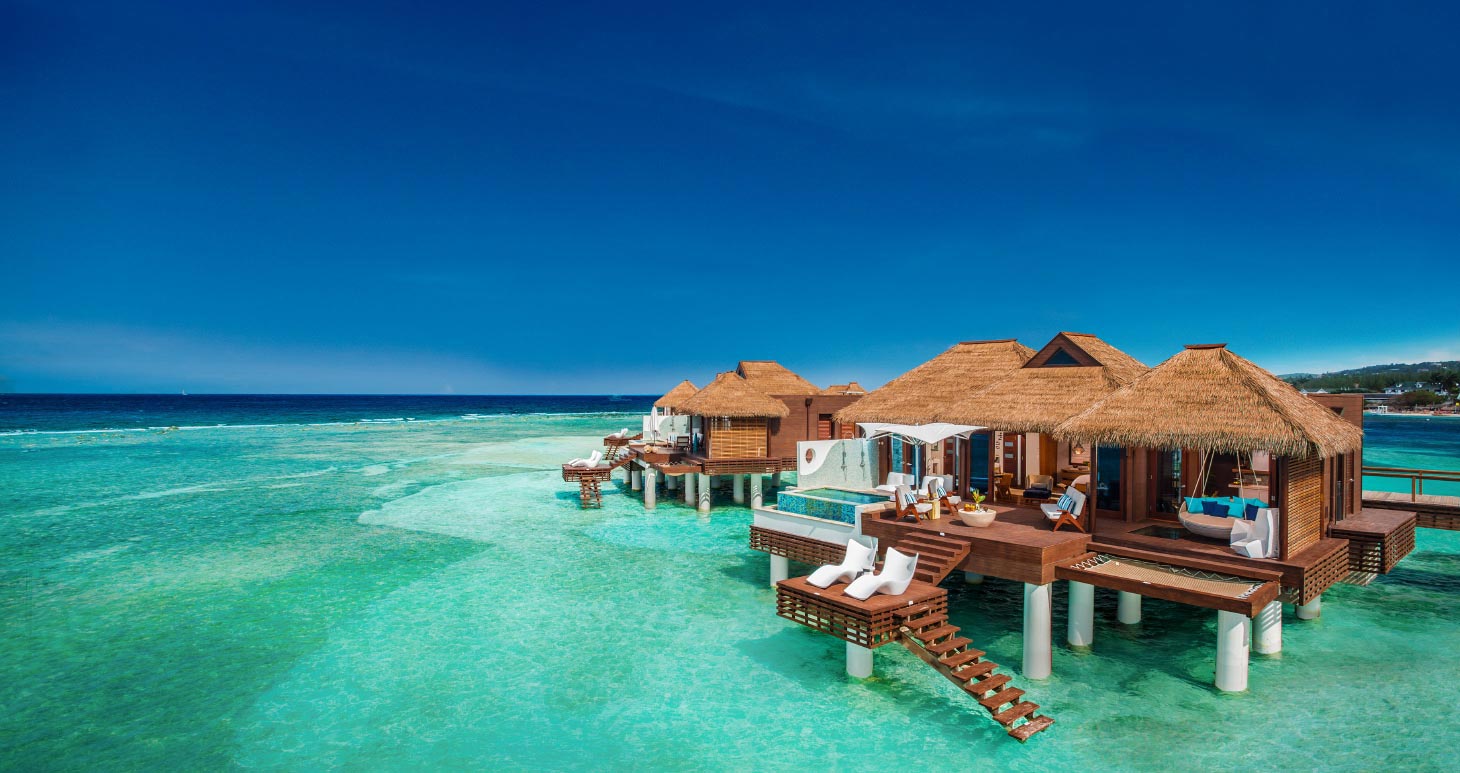 BEST FOR Romance...
This Montego Bay resort not only features the Caribbean's first over-water bungalows for your guests to have a relaxing vacation of their own, but the resort's private island is just minutes away. Imagine waking up in your bungalow on your wedding day and being whisked over to an intimate island by boat to tie the knot with your closest friends and family. If you want total privacy in a stunning location for your special day, this is the resort for you. Click here to get more information about Sandals Royal Caribbean.
From private butler service to a guaranteed ocean view suite, you won't have to lift a finger for your wedding at this Ocho Rios location. The historic resort features Jamaica's only champagne and caviar bar, so you can celebrate your marriage in style. Whether you choose to have your ceremony in the oceanfront gazebo or right on the beach, this secluded oasis is perfect for saying "I do". Click here to find out more about Sandals Royal Plantation
If the unique over-the-water chapel with glass floor panels doesn't immediately intrigue, how about the fact that the resort is set on a 2-mile white sand beach on Jamaica's south coast? The resort is set within a 500-acre nature preserve. The Over-The-Water chapel is one of a kind and you won't find anything else like it. If you're looking for a way to make your wedding as special and unique as your love, look no further. Learn more about Sandals South Coast.
BEST FOR Adventure and local culture…
If you want a place to celebrate your nuptials, this is the place for you. With 16 trendy restaurants including everything from Asian to Mexican, and 11 bars, including the Caribbean's first-ever speakeasy, you'll never run out of places to go. Despite being sprawled across 100 acres, you'll still feel like it's just you two at this romantic oasis. This property is perfect for saying "I do", especially since you'll never run out of things to do. Learn more about Sandals Ochi Luxury Resort.
Sandals Inn
Seeking something more intimate? This charming boutique inn has a bed and breakfast feel, but still has great access to the gorgeous beaches. From attentive staff to 24-hour room service, you'll feel right at home in this quaint hotel. They'll make sure all of your wedding details are taken care of, from the ceremony location to the reception. Located right next to Montego Bay's "Hip Strip" you can explore the local culture just feet away from your room.
No matter which Sandals Resort you choose, you will be sure to have an amazing destination wedding celebration!
To search more venues and vendors in Jamaica click HERE.
Contact us at Love@BeachyBride.com to find the right wedding venue for you or take our Beachy Bride Quiz to help narrow it down!