A five-star resort in Jamaica, Couples Sans Souci blends old world glamour with modern style. Tucked between the mountains and sea, this "Jewel of Jamaica" has its own mineral grotto, mineral spring pool, and an iconic Piano Bar.
At Couples Sans Souci, we spend every day dreaming up new ways to give you more. An extra splash of Myers's rum? A little more grilled lobster? Another dive, or round of golf, or hour of water-skiing? You bet! Because when you're heading to Jamaica for an all-inclusive getaway, getting more should be at the top of your list.
PLAN A DREAM DESTINATION WEDDING IN JAMAICA
At Couples Resorts, your Jamaica wedding celebration unfolds in one of the most idyllic settings in the world. Whether you're planning a wedding ceremony or renew your vows in an intimate sunset ceremony on the beach, we promise to make every detail magical.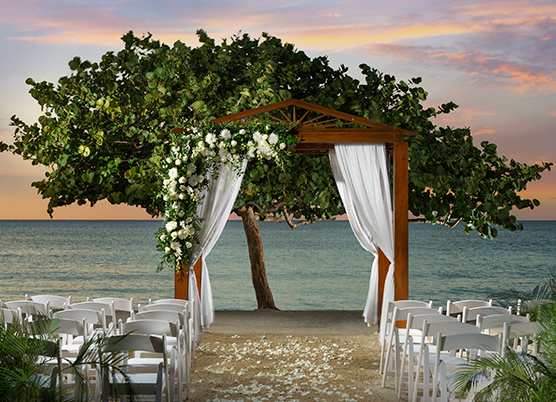 MEET THE TEAM:
WEDDING PLANNERS & DREAM MAKERS
With a combined 40+ years of experience planning special moments exclusively at Couples Resorts, our three expert wedding planners - Kenisha Dell, Tia Rooney and Andrea Bruce - work a special kind of magic with brides and grooms planning destination weddings in Jamaica. Warm and enthusiastic, with a flair for flawless precision, this dynamic trio has earned the trust of couples year after year. In fact, many return regularly to relive the magic of "day one" all over again.