Live Aqua Beach Resort Cancún - A Miami chic vibe, Live Aqua is the place to relax, unwind and enjoy. From the intricate dining to the inifinty pool and scented halls, you will be transported to a wonderful world of luxury and peace. Located just 20 minutes from the Cancun airport, Live Aqua is a true experience for the senses and the soul.
Certified wedding team that will be more than happy to guide you through the planning and design your dream day. We have South Asian, Same sex, Jewish, legal and multicultural weddings large experience.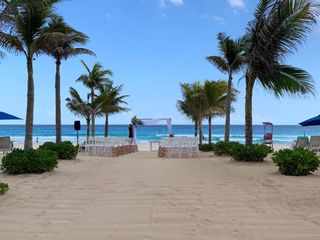 ARE YOU READY TO BE A BEACHY BRIDE?
CLICK THE GET MORE INFORMATION BUTTON ABOVE TO REQUEST PRICING AND AVAILABILITY FOR YOUR DAY!
Feeling Overwhelmed? Take the Beachy Bride Quiz to narrow down your best options!