Sandals Only All-Butler, All-Suite Resort
Understated elegance and exquisitely private, this is Sandals Royal Plantation - an intimate all-butler beach resort of just 74 ocean view suites tucked into a magnificent coral bluff. You can spend your days lazing by the pool with cool libations delivered right to you by a beach butler. Tee off at nearby Sandals Golf & Country Club, followed by a spot of afternoon tea on the terrace. Renowned for unmatched attention to detail, this enclave of retro-chic sophistication showcases roaming peacocks and manicured lawns. This historic adults-only resort has long been a favorite hideaway for the international jet set and literary elite, with the likes of Ian Fleming and Noel Coward seeking its casual island elegance and authentic Jamaican vibe back in their day. Today, exquisite original furnishings and new innovations like Jamaica's only champagne and caviar bar are what make Sandals Royal Plantation one of Ocho Rios' best all-inclusive resorts.
Customizable Weddings
At Sandals, we understand that your love story is unique and special… and your wedding should be, too. That's why we've replaced wedding packages with Customizable Weddings, making a very personal experience a personalized one for you. We've added all the extras to make your special day even more extraordinary. So tell us your dream, and we'll bring it to life.
Every Sandals Wedding Includes: INCLUDING FREE WEDDINGS AND ALL CUSTOMIZABLE WEDDINGS
No matter how you design your special day, you'll find that we've included some of the finer details. From seating and cocktails, to music and more, we give you the perfect foundation to start creating the wedding of your dreams.
Personal Wedding Planning Team - From your pre-travel team to your onsite team, we'll take care of every detail for you at every step until the day you say "I do."
Preparation of Marriage Documents - The documents process can be a confusing and complicated one, but with our team of document specialists, the process is made simple and as stress-free as possible.
Picturesque Wedding Location - A romantic location of your choice featuring décor items from our inspirations.
White Chiavari Chairs with White Cushions - A reception at a resort location of your choice featuring décor items from our inspirations.
Pre-recorded music for your ceremony - Select your pre-recorded musical accompaniment for your ceremony.
1-Hour Cocktail reception for guests - Offer your guests a cocktail reception with premium spirits and hors d'oeuvres.
Signature cocktail for the Bride and Groom - Choose a fun and flavorful, specially made cocktail that reflects your personal taste and wedding theme.
15% discount on Red Lane®Spa services - We make it easier to pamper yourself for your big day with a special 15% discount on Red Lane® Spa services for the bride and groom.
Free Sandals Wedding and Honeymoon Gift Registry - Sandals provides brides and grooms with the exclusive full service of a free Wedding & Honeymoon registry.
5" x 7" Wedding Photograph - Complimentary 5"x7" wedding photo.
Romantic turndown service on the 1st night of your honeymoon - A special turndown service that includes flower petals on your bed on the first evening of your honeymoon.
Honeymoon mimosa breakfast in bed - Celebrate your marriage with a special wedding gift — a bottle of chilled sparkling wine awaits your arrival and a decadent breakfast in bed on any morning of your choice with fresh flowers.
Honeymoon dinner - A honeymoon dinner for the bride and groom in a specialty restaurant with white-glove service and complimentary sparkling wine.
Luxury Destination Wedding Garment Bag - Keep your wedding dress in pristine condition while you travel with the Luxury Destination Wedding Garment Bag as our complimentary gift to you.
Check out Sandals Wedding Packages.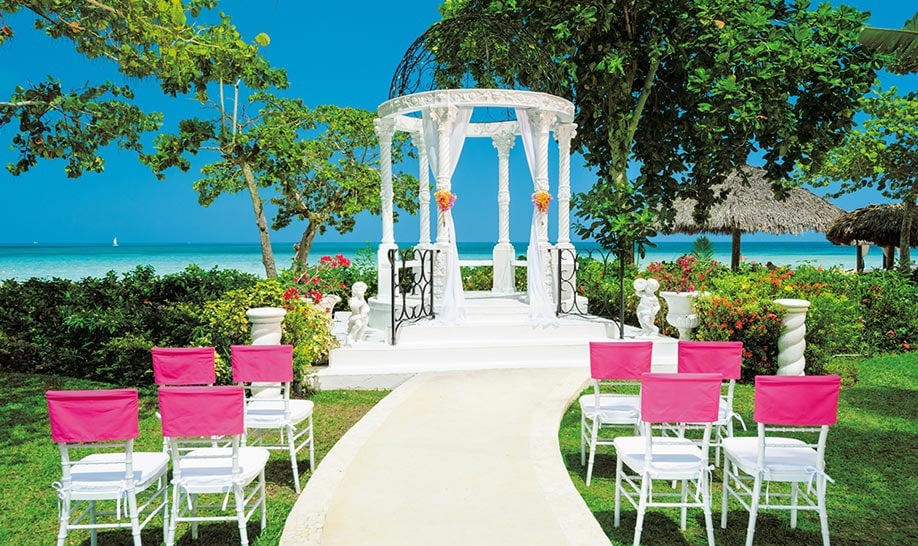 ARE YOU READY TO BE A BEACHY BRIDE?
Click the GET MORE INFORMATION button above to request pricing and availability for your wedding at Sandals Royal Plantation.
Feeling Overwhelmed? Take the Beachy Bride Quiz to find the right venues and vendors for your destination wedding.