Why Be Traditional When You Can Be Original?
The VI Cat is committed to making your wedding fantasies come true! Our 29 by 54 ft. sailing catamaran makes for a great wedding ceremony, dinner reception, rehearsal dinner, bachelor/bachelorette party, engagement parties, wedding renewal parties, etc. over the turquoise Caribbean waters. We have expert professionals who are dedicated to quality and will see that every detail of your big day is just right. Our staff is knowledgeable of and have worked with many local vendors who can bring even your biggest wedding ideas to life. We're located within beautiful Marriott's Frenchman's Cove and work closely with their event services, making the catamaran an easily accessible venue and a great destination for guests to find accommodations. We also have the ability to pick up from other locations as well!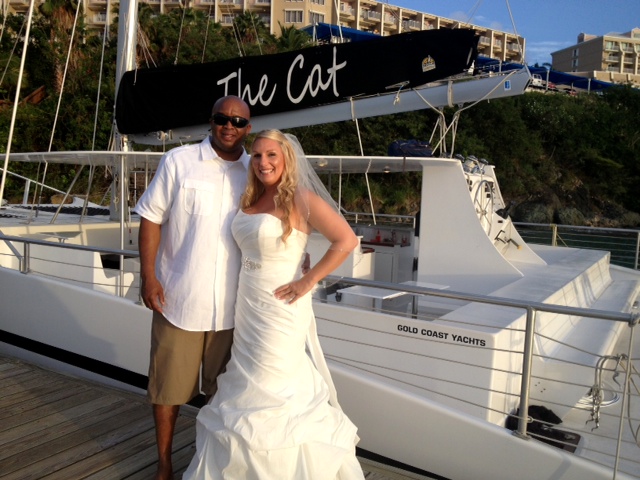 Requesting a quote is easy!
Click Get More Information and provide us with the following: date of event, number of guests, type of event - daytime/snorkeling, evening, dinner, brief explanation of your vision and we will provide you with a proposal.
The Party Doesn't Start Until You Walk In!
Couples want wedding day to be a stress-free event and The VI Cat helps and ensures that everyone enjoys themselves. With The VI Cat, your options to create magical moments are endless! You can create experiences like a champagne toast as the setting sun dances across the ocean; You may sail to Water Island for your nuptials on Honeymoon Beach; Enjoy a BBQ Dinner during the sunset and dance as the harbor lights twinkle behind you. We can help make your Caribbean wedding dreams a reality. Able to accommodate 80 guests aboard, along with The Cat Crew, The VI Cat makes the perfect venue for intimate weddings and receptions. Why not break a few rules and give your guests the experience of sailing the Caribbean Sea while saying 'I Do' to your newly beloved in front of panoramic views of an award-winning backdrop?
Special Touches
The VI Cat can help by:
Supplying a unique venue
Advising of local vendors and caterers
Providing catered meals
A Captain who is also an officiant
Customization of island destinations
Capacity for 80 guests
Shaded canopy and spacious sun decks
Amplified sound system with an auxiliary jack so that you can provide your own music
Options/ability to decorate the boat with a banner/decorations bring party favors for guests
The VI Cat is a one stop shop for your event venue needs. Our 54-foot catamaran has the capacity to provide a unique venue, an on-deck bar, catering options, serving staff, a Captain, an officiant if needed, music from an onboard amplified sound system, and award-winning scenery all for one price. We are easy to work with, our events hassle free, and handle everything all under one roof. Deal with one person, one price and it's done. Have your event in the Caribbean where it's easy, breezy.
Worry Free Event Planning
The VI Cat knows that sometimes plans change, even at the very last minute. The Cat's Cancellation Insurance Policy protects your Cat tour payments - 100%. If you cancel, The Cat will give you a FULL REFUND, no questions asked. If you want to reschedule, we will do our best to accommodate. If rescheduling doesn't work for you or The Cat, we will give you a FULL REFUND. Here's the best part: unlike our competitors, The Cat's Cancellation Insurance Policy comes with every event booked with The Cat - free of charge.